200 HOUR WISDOM, SKILL AND GRACE YOGA TEACHER TRAINING-OJAI CA IMMERSION
Next Teacher Training Class: TBA
Overview
Personality of the Program
This 200 hour yoga teacher training program is about approaching your yoga practice and your life with honesty, skill and grace (whether you want to teach yoga or not). Through this masterfully designed course, you will understand technique and experience the value of a meaningful pranayama and meditation practice. You will explore how the body functions and discover the power of skillful and intentional alignment. You will also study the philosophy of yoga as it applies to you and your life each day, and courageously begin the journey of sincerely walking the yoga talk. For those who intend to teach, this yoga teacher training is specifically known for giving you an authentic experience of everything you'll teach about as a yoga teacher (rather than simply telling you what to say and do without an understanding of why), so that you can truly speak from an intelligent and authentic place.
You can expect a high quality yoga teacher training presented by a teacher with over 15 years of experience teaching yoga to both students and teachers.
And you will be supported unconditionally through many challenges as part of this teacher training course, as well as heart opening insight. You will be vulnerable, brave, a little scared; you'll laugh a lot and probably cry a little. You'll meet amazing people and make great friends, guaranteed.
About Cori Martinez
Cori Martinez is an Experienced Registered Yoga Teacher at the 500hr level with the Yoga Alliance.
She has founded three very successful yoga studios over the last thirteen years and currently operates Sacramento's largest studio, Asha Yoga. In addition to teaching workshops, retreats and teacher trainings all over the country, she has also been featured in prominent yoga and wellness sites such as MindBodyGreen, Elephant Journal, Yoga Training Guide, Skillful Teaching and many others. She has also taught at the infamous Wanderlust Festival, California Spirit Festival and has led classes for the Yoga Aid Challenge. Cori's approach to teaching the yoga teacher training courses combines mindful alignment with modifications for individual needs, intelligent sequencing, strength, humor and a lot of heart.
A qualified teacher for your yoga training program is an extremely important factor that will ultimately determine the quality of your training. Not only is it important that the teacher be knowledgeable in the system of yoga and the art of teaching yoga, but they must be skilled in understanding the learning process and in presenting material in an organized, logical and graduated fashion.
Cori is truly an expert and master teacher. She presents the subject of yoga with skill, clarity, passion, and wisdom.
Style of Yoga
Mindfully Aligned Vinyasa Flow Yoga
At Asha Yoga we believe in skillful alignment, intelligent sequencing, yoga as a way of life, breath-work and doing it all with HEART. This yoga teacher training course instructs in the dynamic style of Vinyasa Flow yoga with intelligent attention to physical detail and inspiring, heart-opening attention to Spirit.
About Yoga Alliance
Because Cori Martinez and Asha Yoga are members of the Yoga Alliance
Your certificate will be recognized all over the world. Once you graduate from our teacher training course you will be eligible to join the Yoga Alliance at the 200-RYT level. Becoming a member of the Yoga Alliance is a great way to let gyms and yoga studios at which you wish to teach know that you are a professional, highly educated and skilled teacher.
Location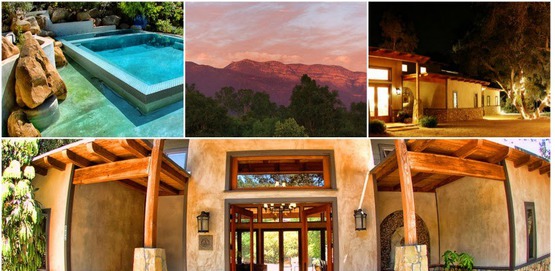 Imagine you're awakened by the sounds of nature as you rise to an environment of serene wildflowers beneath the majestic Topa-Topa mountains. Your meals are lovingly prepared by a private chef and you rest and rejuvenate daily in a spectacular salt water soaking spa with cold plunge. You nap in the thoughtfully placed garden hammocks by day and at night you sit by the outdoor fire and gaze up at the clear, bright, starlit sky. All of this (and more) awaits you in the healing tranquility of Villa Ojai in Ojai, California.
Application
Click HERE to Apply